Double recipes: Tortellini Bolognese and Braised Veal check
Tortellini Bolognese
with capon broth &
winter black truffle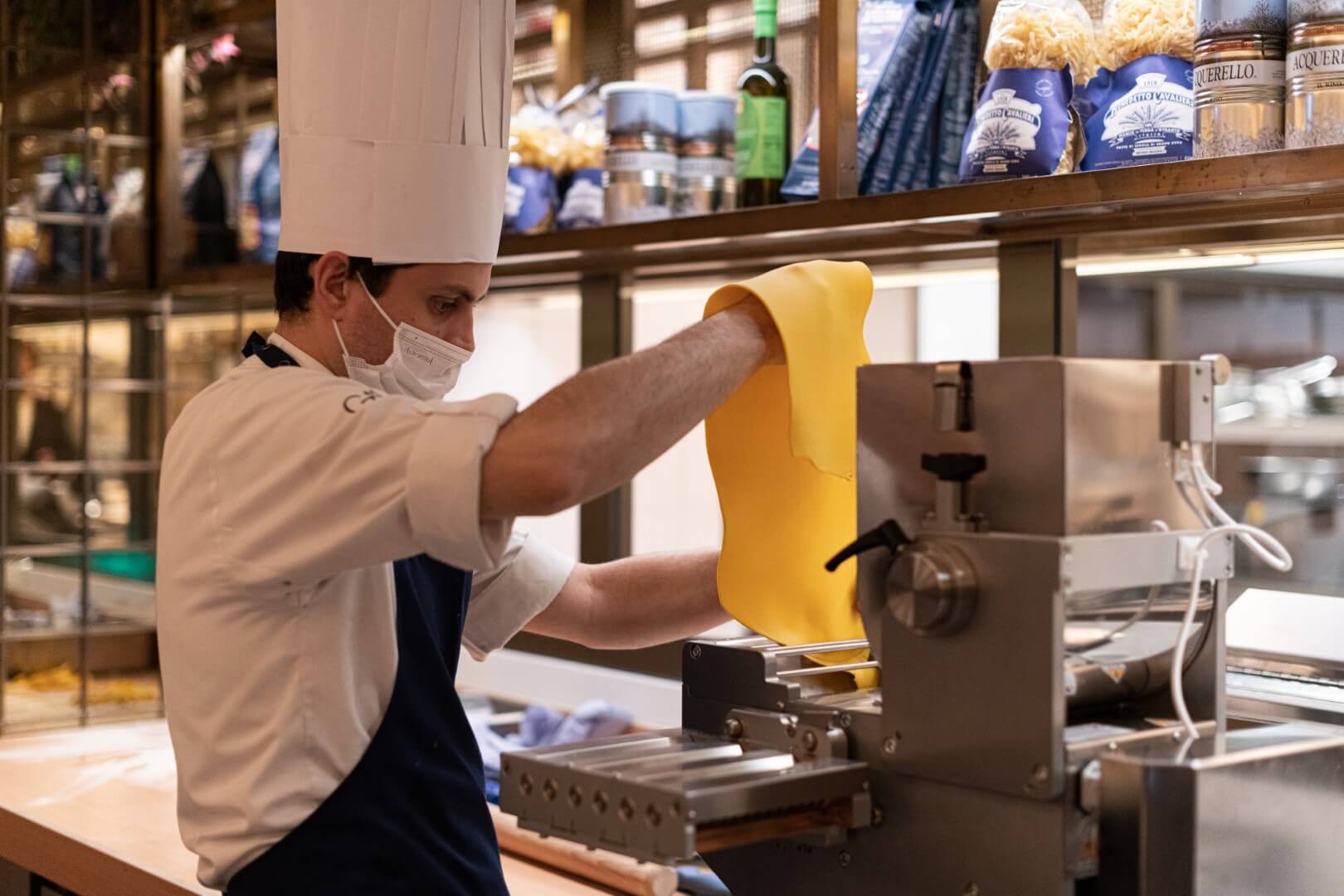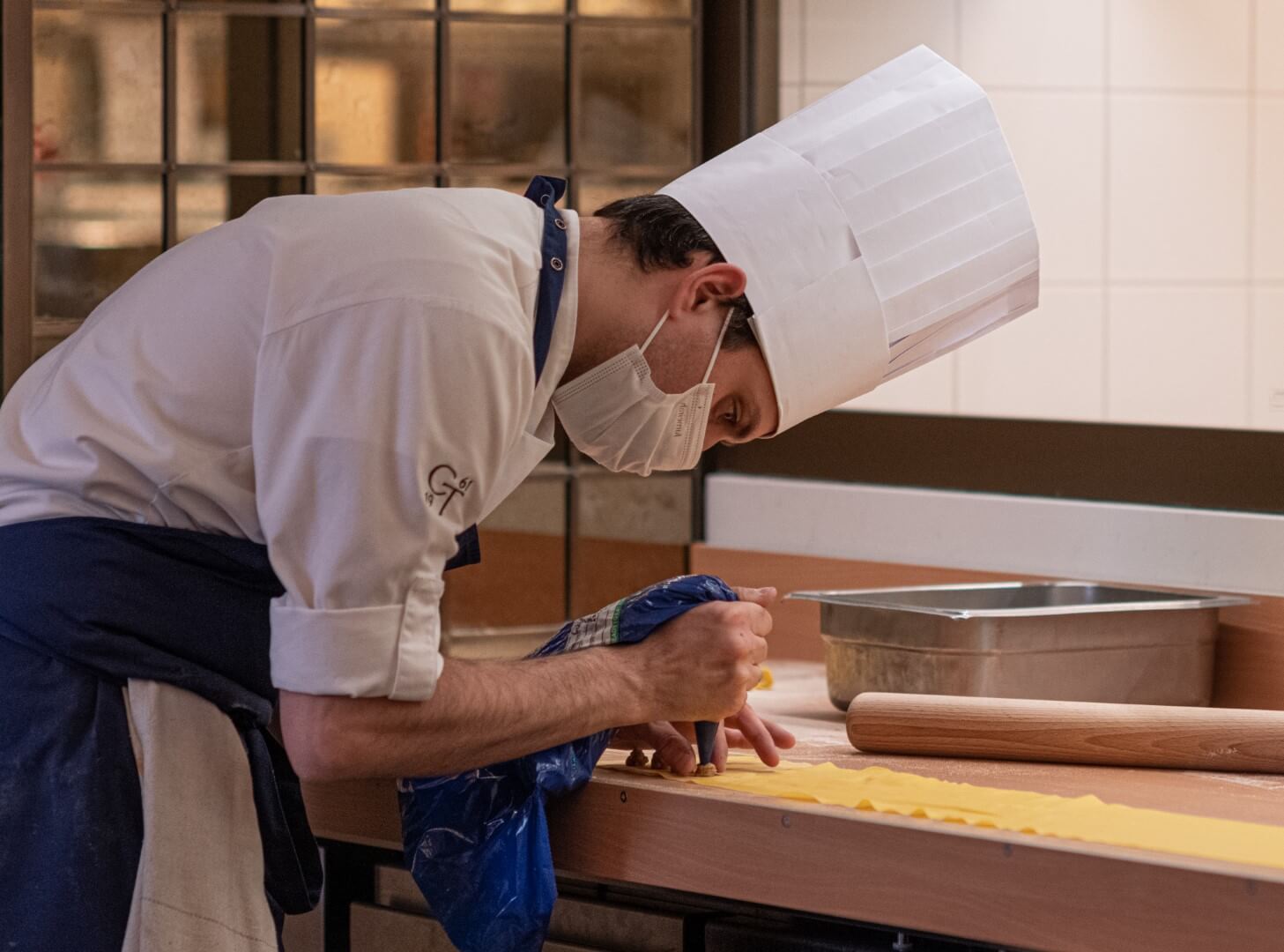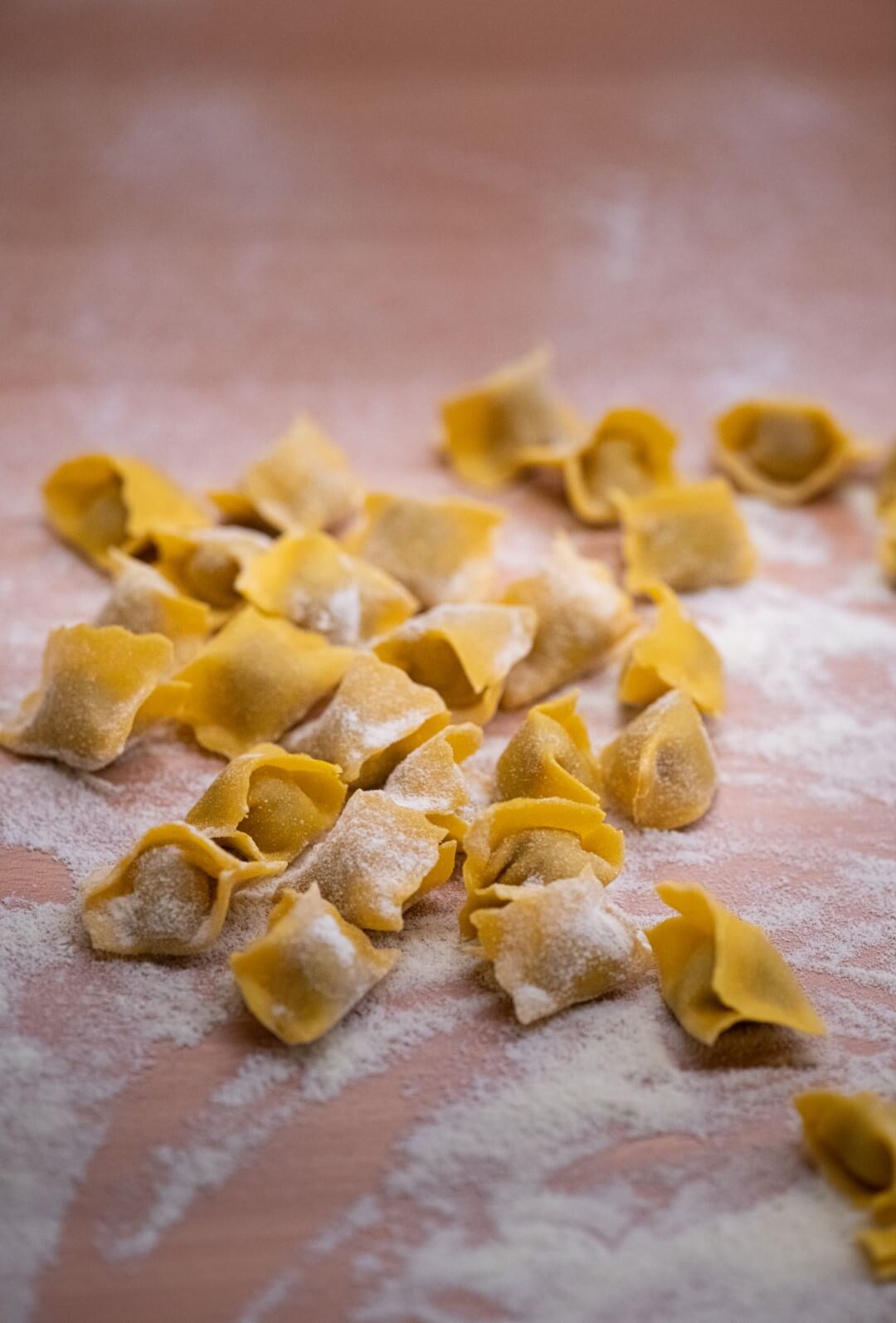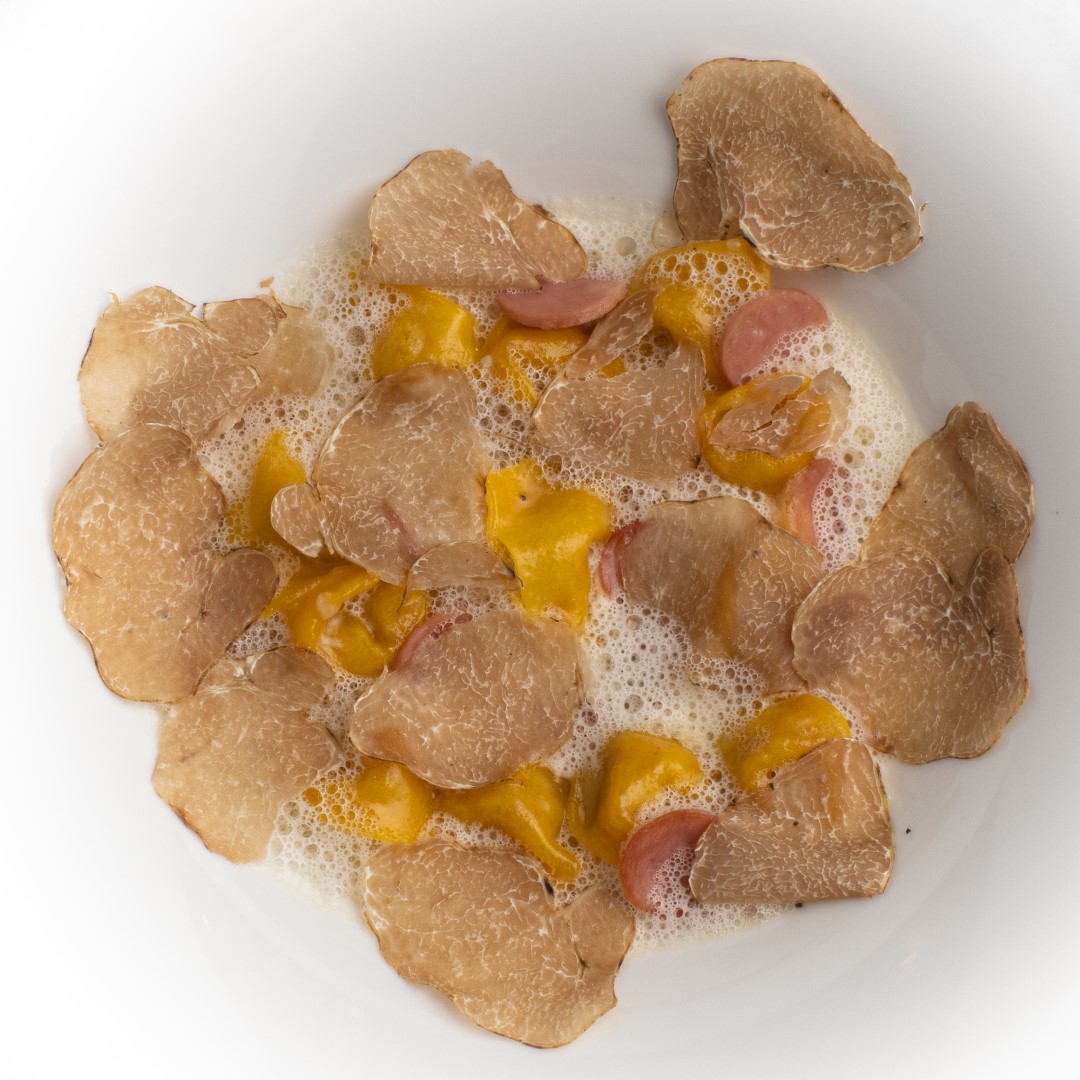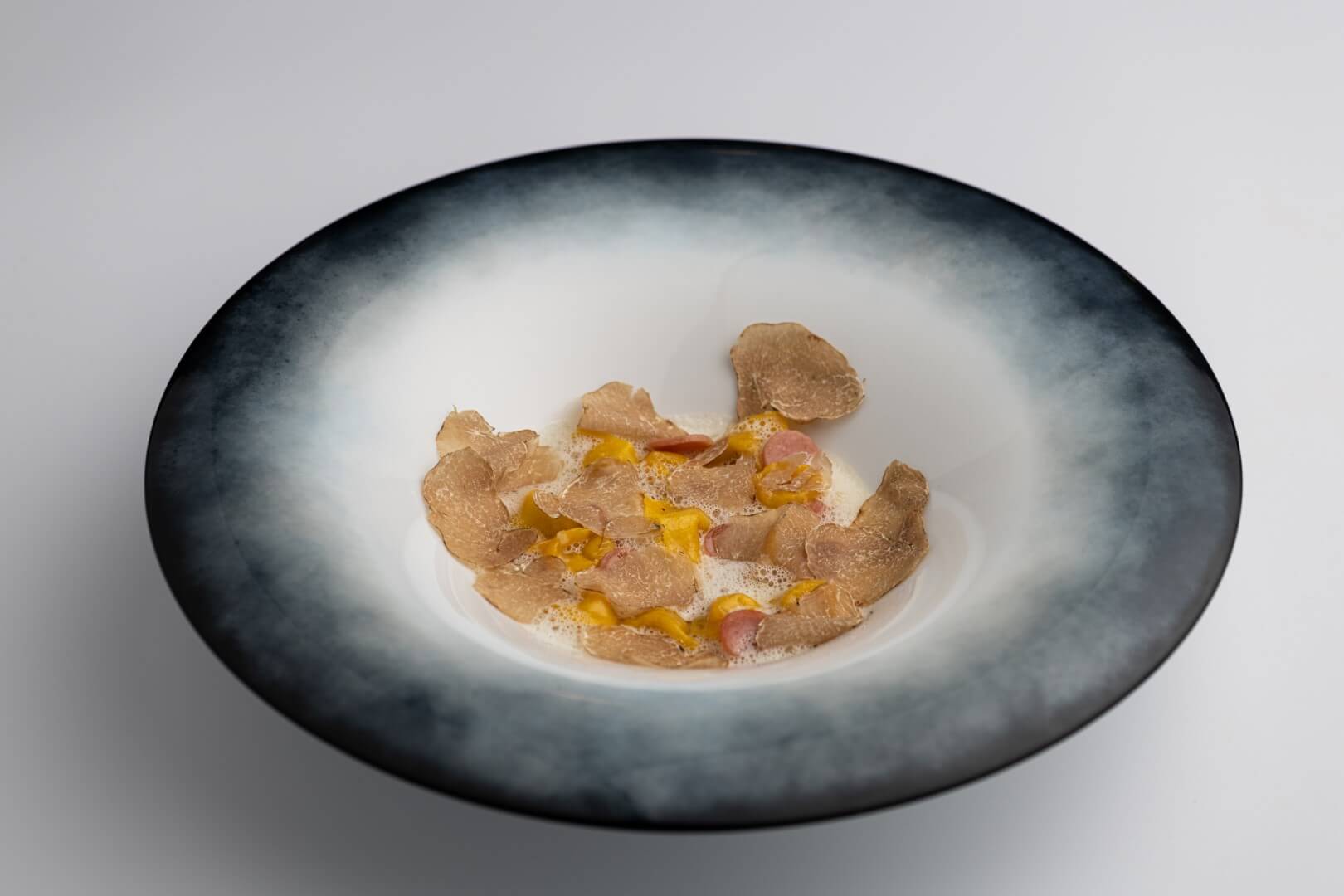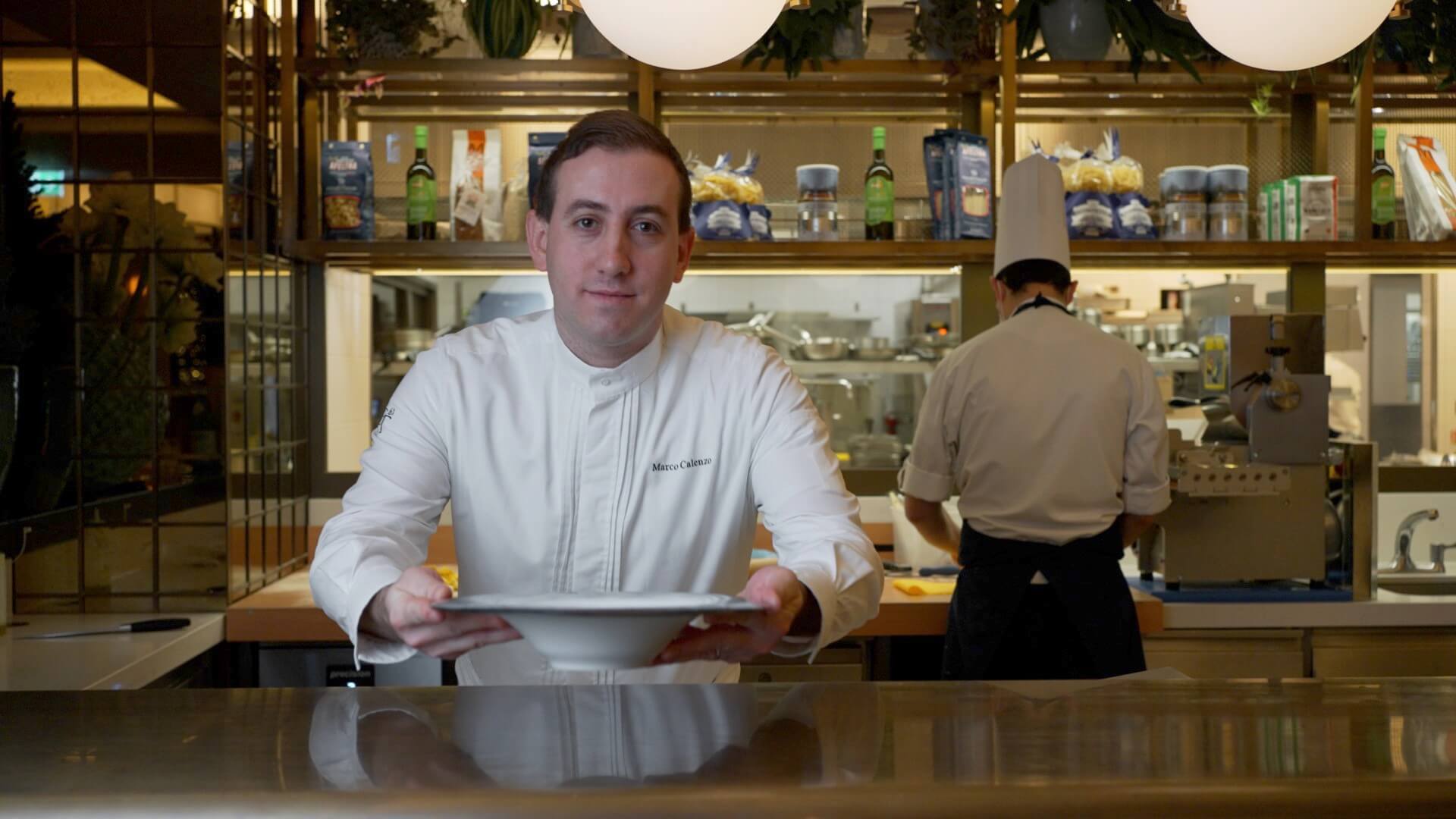 Pork belly 500gr
Mortadella 150gr
Prosciutto Parma 50gr
Parmigiano Reggiano 350gr
Salt
Pepper
Nutmeg
Eggs n.2
Pass the pork belly, the mortadella & the prosciutto to the mincer, for 2 times.
Mix in the bowl all ingredients and taste seasoning.
Fill the tortellini with 12gr of filling each, close as the traditional shape.
Mortadella 200gr
Bone marrow 20gr
Extra virgin olive oil 5gr
Thyme 1gr
Cut the mortadella 0.5cm thick and with a 2cm cutter, cut in round shape.
Melt the bone marrow and add all ingredients in a vacuum bag and seal.
Cook sous vide for 14m 80 degrees. Cool in ice water.
Reheat when needed in a water bath for 2m at 80°c before serving.
half a capon
10.6 oz beef flank
1 cup Sherry wine
1.1 lb beef bone
5.3 oz onion
2.5 oz celery
2.8 oz carrot
1 sprig of parsley
5 L/1 gal water
coarse salt to taste
fill a large pot with cold water, add the whole vegetables, washed, and peeled, and the parsley. Add the meat and bones (well-rinsed) and the capon after removing any remaining feathers and washing it carefully.
Bring to a boil, add the sherry wine, and let it simmer for approximately 3 hours, covered on a low flame, using a skimmer to remove any froth that forms on the surface. Add a small pinch of coarse salt halfway through the cooking time. At the end of the cooking time, strain the broth with a fine sieve and adjust the salt if necessary.
For the service, reheat the stock in a small pot, and with a hand blender whip with some butter and extra virgin olive oil and black pepper freshly grounded.
Serve in a side sauce holder for pouring table side.
Service:
Tortellini 100gr
Capon stock 1l for boiling tortellini
Capon stock 100gr
Butter 10gr
Extra virgin olive oil 5gr
Mortadella round 5pc
White truffle Urbani 5gr
Boil the tortellini inside capon stock, strain, and plate with 5 pieces of mortadella.
Boil the capon stock and whip with butter and oil and serve in the pouring container.
Shave fresh truffle on the tortellini and serve.
Braised Veal check,
celeriac and black truffle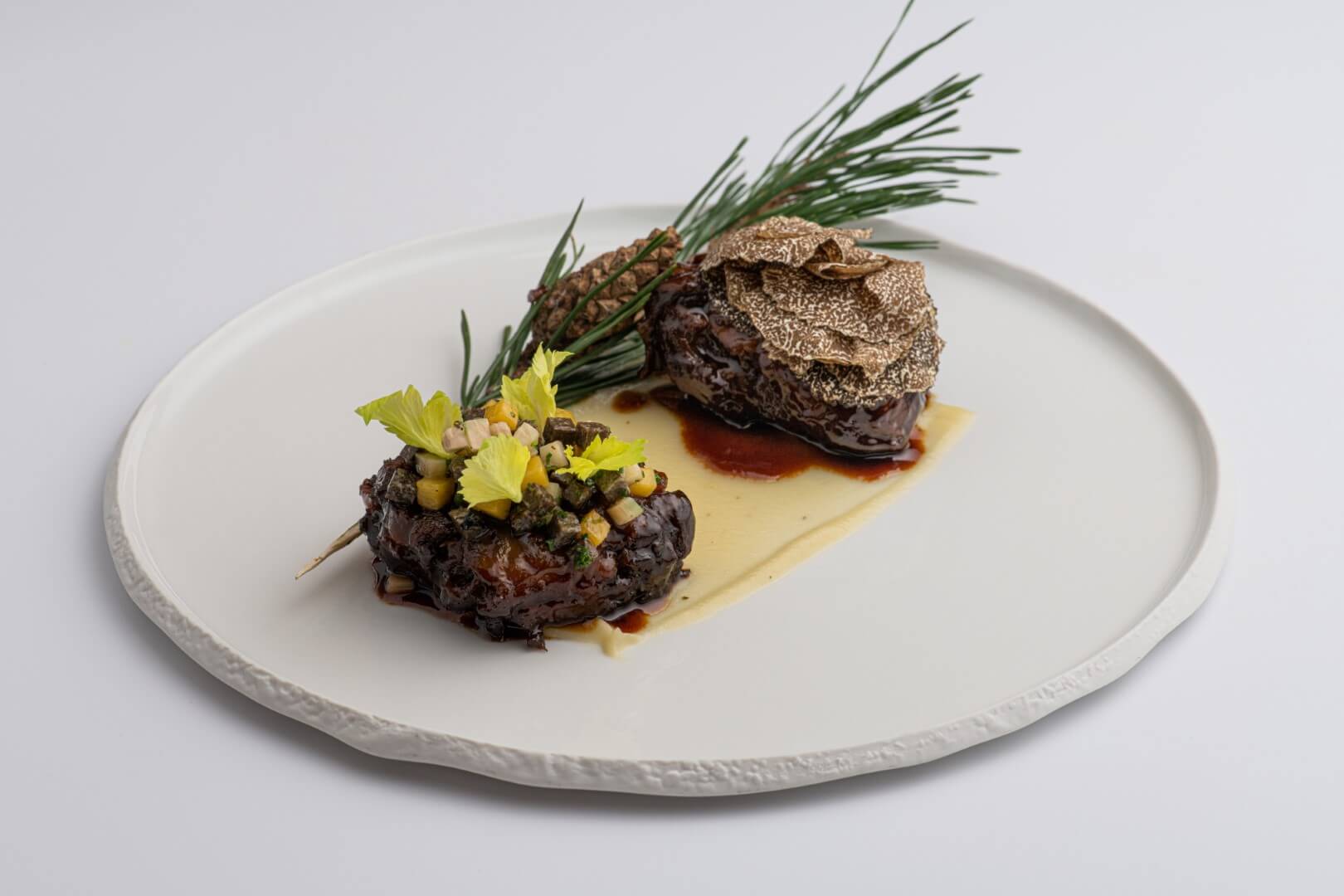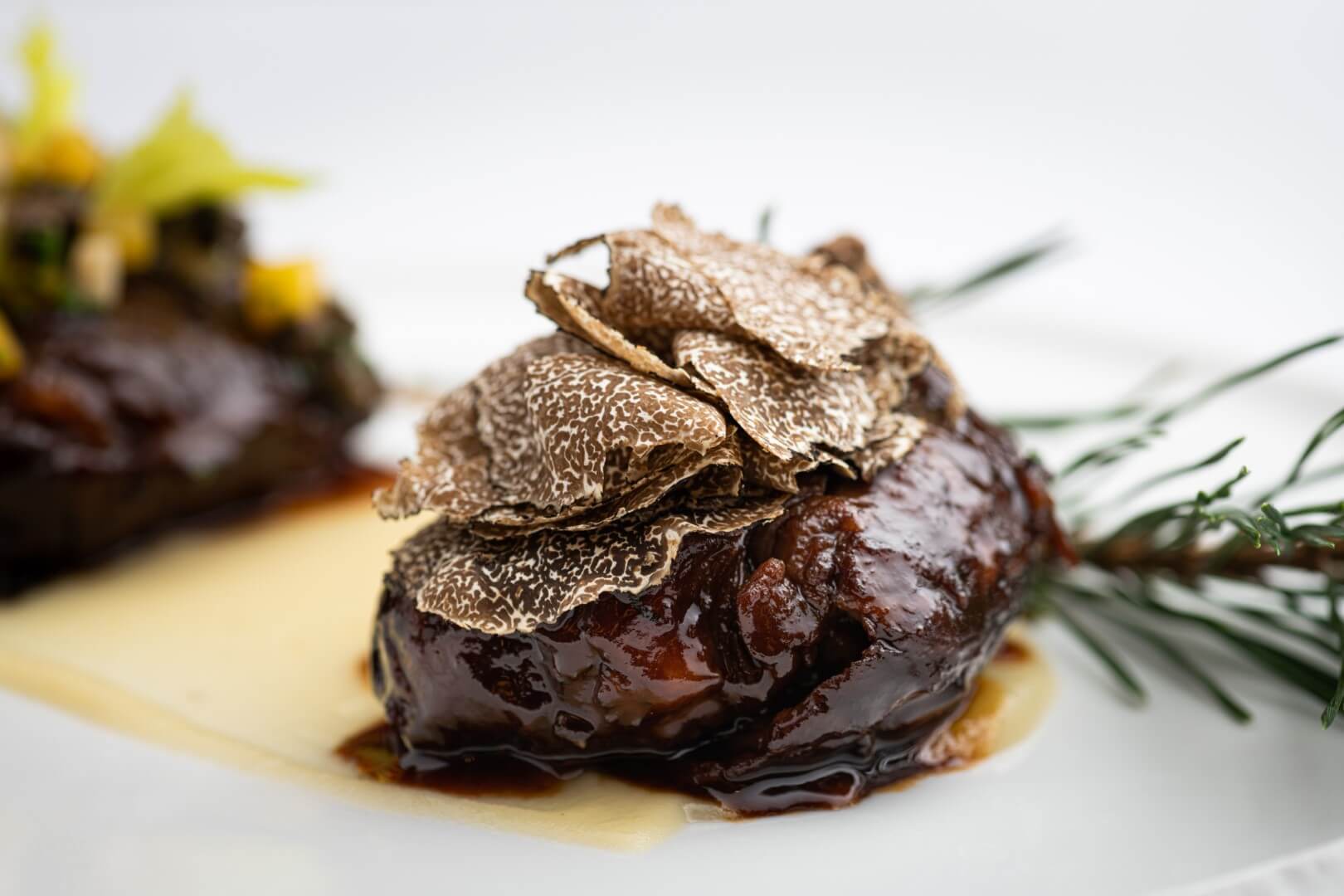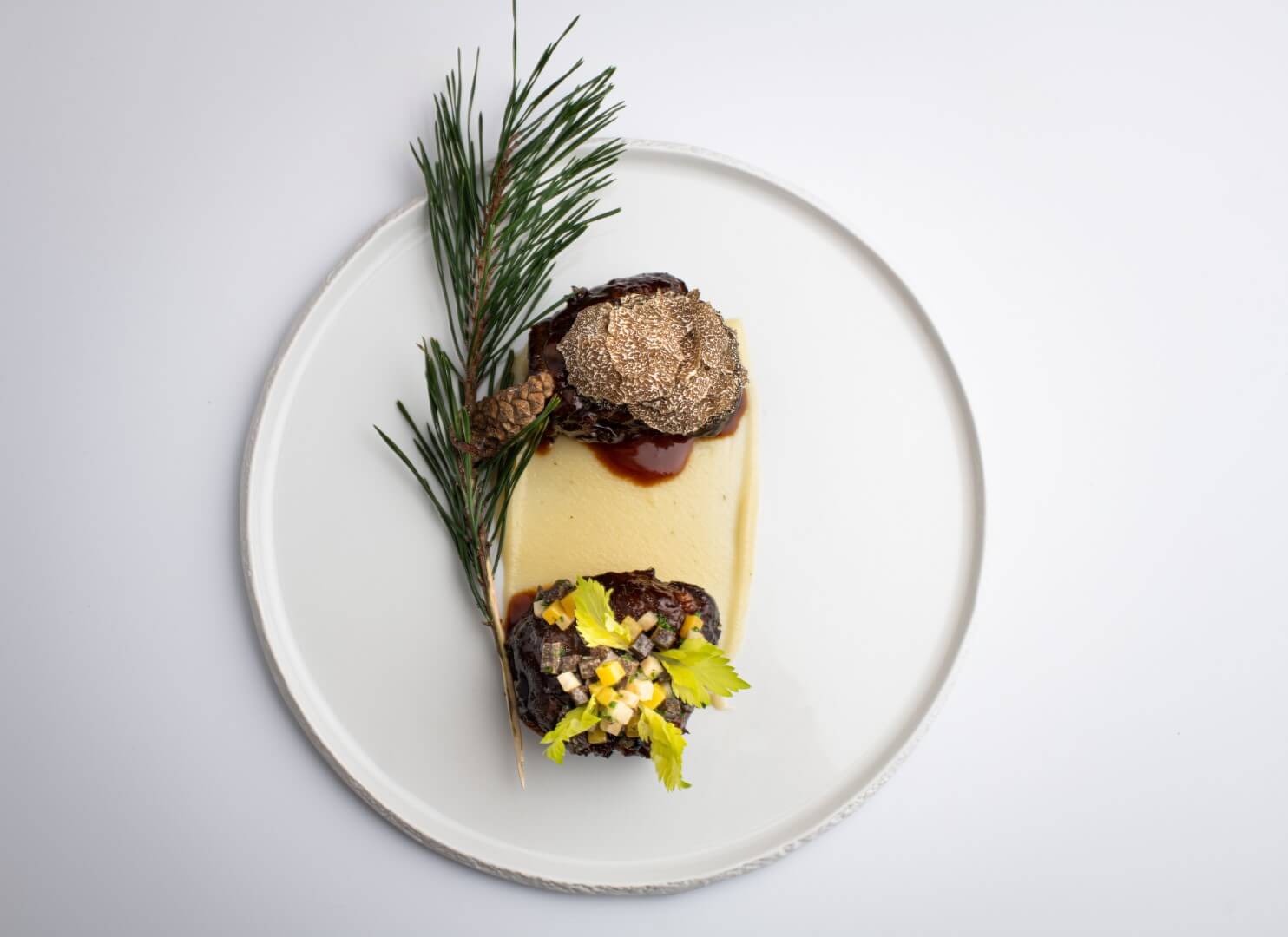 Step 1:
Veal cheeks cleaned n.4
Olive oil
Salt
Pepper 0.1gr
Juniper berries 2
Gappa 20gr
Pine brunches 100gr
Clean the veal cheek, marinade with all ingredients overnight.
Step 2:
Caramelize the veal cheek all around in a pan with olive oil.
Remove from the pan and put in a colander to drain all the fat out.
Put the veal check in a tall tray for the oven and bake 10 minutes without any liquid, to give the right shape and texture to the meat.
Step 3:
Celery 15gr
Carrots 14gr
Onion 10gr
Red wine 1 glass
Port wine 1 glass
Chicken stock 1lt
Black pepper
Bay leaf
Tomato concentrates half spoon
Cut celery, carrots, onion, and leeks in cubes and caramelize in a pan with olive oil.
Add inside the bay leaf, black pepper grain.
Add tomato paste, cook and before start to stick,
Deglaze with wines and inside the marinated and seared veal cheek, add chicken stock to cover.
Take to boil, move inside a staub cocotte, cover with lead and bake 200 °c for about 2 hours.
Once they are cooked and soft, remove the cheeks, and reduce the sauce to consistency.
When needed, reheat gently the veal cheek in a pan with the sauce and glaze well.
Truffle sauce:
Reduced braised veal sauce 50gr
Aged bonini balsamic vinegar 10gr
Truffle oil 3 drop
Topinambur puree:
Topinambur peeled and diced 200gr
Butter 20gr
Shallots 10gr
White 20gr
Milk 200gr
Cream 200gr
Brown butter 10gr
Truffle oil 2gr
Sweet the shallots in butter gently, add inside the topinambur, roast without color and deglaze with wine.
Once the wine is evaporated, cover with milk and cream and simmer until soft.
Strain and blend the topinambur with some cooking liquid, the brown butter, salt and truffle oil.
Serving vegetable cubes:
Swede 50gr brunoise
Topinambur 50gr brunoise
Black truffle 50gr brunoise
Thyme 2gr
Brown butter 20gr
Chives 2gr
Madeira
Salt
pepper
Separate the 2 vegetables and the truffle into different vacuum bag, season with salt, pepper, thyme, brown butter (filtered).
Cook sous vide 80 degrees until right texture (no soft).
Regenerate in a small pan all 3 ingredients together for the service to give little colour.
Deglaze with 1 spoon of madeira wine.
Finish with fresh chives.
Plating:
Celery leaf – cress
Black truffle – Shaved

Plate the topinambur puree at the base in 2 separate spot.
Add on top of each 1 braised & glazed veal cheek.
On top of one cheek add the vegetable brunoise, and on the other add the shaved truffle.
Finish with celery leaf on top of the check with the veg brunoise and decorate with one pine brunch.
Condividi
la tua ricetta
con @urbanitartufi